Greening Your Office - Literally
By Katie Secrist
Sustainability Consultant and Director of Strategic Partnerships
I've been on a journey these last few months to green our office – literally-- by building and testing a version of a living plant wall in the SBC office.
Back in 2018, our team realized that all of the nature in our office was hung up in 2D picture frames on the wall and, as sustainability professionals, we wanted more of a connection to nature in our daily lives. Naturally, I accepted the challenge to "green up" our office without breaking the bank on expensive (though beautiful) living plant walls.
Here's how to add some healthy greenery to your office on a budget:
Step 1: Find a style you like, then imagine various ways to achieve the same goal.
I spent time scrolling through countless pages on Pinterest under the search term: Plant Wall Ideas. Our office decided on something that would take up the whole vertical of a wall and display various plants in an industrial, hanging pail fashion. Here was my inspiration: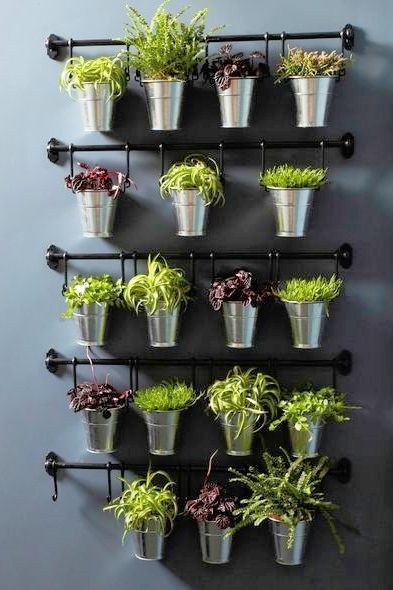 I was familiar with lattices from having re-designed our own backyard, and I knew I could find a way to bring a similar look inside. With the help of some research on Home Depot's website, I came up with the idea to use a Rebar Sheet Mesh for the frame and planter holders to affix the pots. This allowed us to create a similar look as our original inspiration, but on a more affordable budget.
Green Tip: Make sure to find pots with built-in drainage that won't leak onto your floor (i.e. an attached saucer). Otherwise, use gravel to create some space at the bottom of your sealed pot for aeration.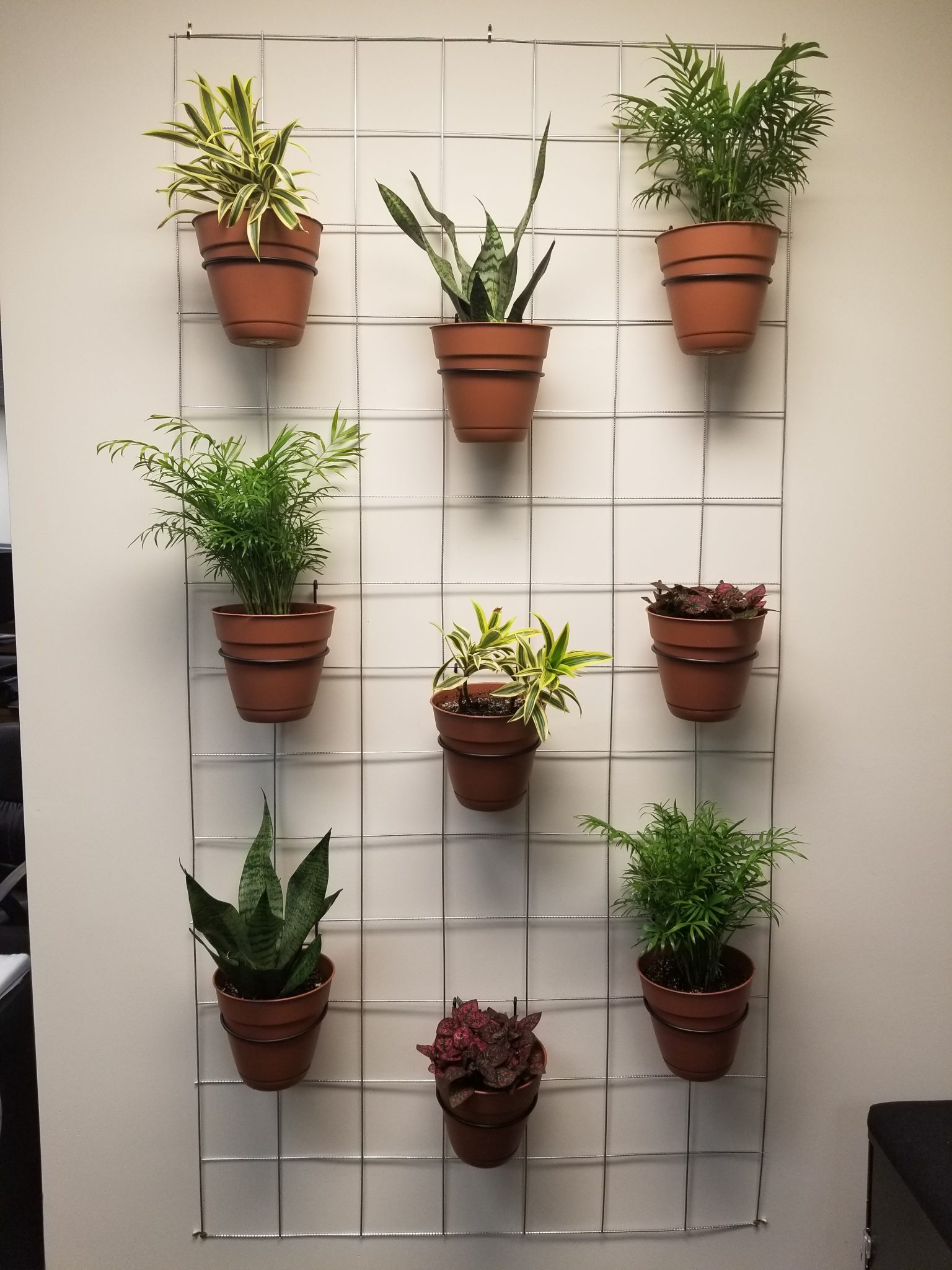 Step 2: Accept what you got yourself into, and forge ahead.
Every project will have its obstacles and bumps in the road, but what matters is that you take a solution-based approach. A garden is a part of nature and thus is bound to be unpredictable, and if you're creating your own design for your wall, you might run into design challenges.
I experienced one of these bumps when I started installing our green wall. As it turns out, rebar sheets are actually designed for laying tile, so the outward appearance isn't something that the designers considered. However, I intended to hang it on the wall as accent décor, but, unbeknownst to me, it was covered in rust that didn't mesh with my Pinterest green wall dream. But a little (or a lot) of rust couldn't stop me from bringing my vision to life, so I got to work scrubbing every edge with a metal brush to remove the rust and decidedly finished it off with a nice coat of silver spray paint.
Take your challenges in stride and embrace them! They'll make the finished product that much more satisfying.
Green Tip: Lay a plastic sheet down under the rebar to spray paint so you can get close, not waste much paint, and keep your workplace clean.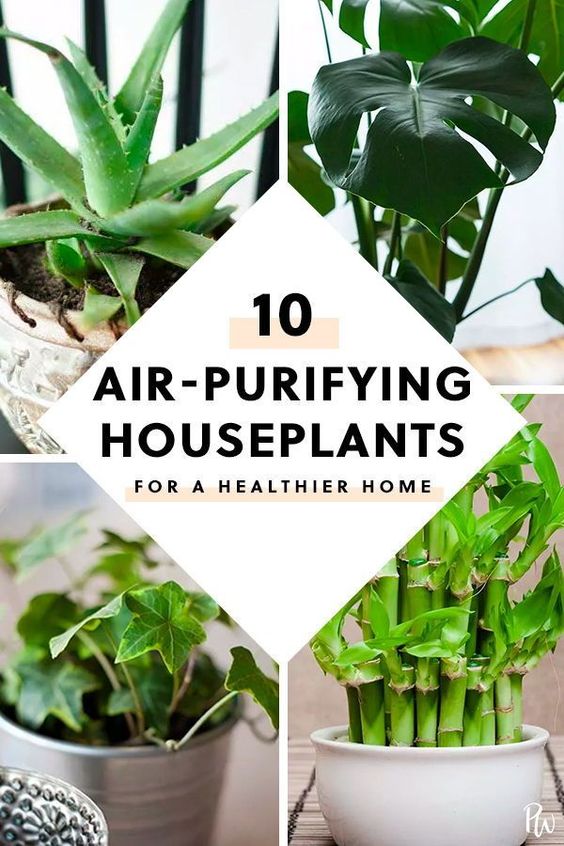 Step 3: Find the right variety of indoor plants for your office.
Finding the right plants for your office will help you get the maximum benefits from your plants and will ensure that your plants are green and happy in their new environment.
Our office is in a tricky Pacific Northwest climate, so when I searched for office plants, I looked for varieties that do well with little to no natural light. Many of them also double as purifiers to clean the air in your space, which is an added bonus that we love! I highly recommend doing your research before buying to ensure that they'll be happy in the conditions of your office. Is your environment humid or dry? Does your office receive plenty of natural light, or are you faced with cloudy days? What is the temperature like in your office? All of these factors affect your mood and wellbeing in an office, and your plants are even more sensitive. Doing your research and adjusting for your environment will save you a lot of heartache…trust me, I know.
Green Tip: Once potted and hung, rotate your plants every month or so to bring the lowest plants closer to any nearby artificial light. Turns out, any light is still good light for growth!
Step 4: Assign responsibility for watering and maintaining the plants.
Find a schedule that works for you and find the coworkers that are most excited about the new installment. Once your plant wall is set up, take the time during the first 4-5 weeks to pay attention to how much or how little water your plants really need, then share the responsibilities with others in the office to generate community around your new addition. A good rule of thumb is to water until the soil is fully moist, and then water again once the soil is dry to the touch. Once a week should work for most houseplants, but each variety and environment is different!
Green Tip: Purchase indoor, moisture-control soil mix to ensure the best watering patterns.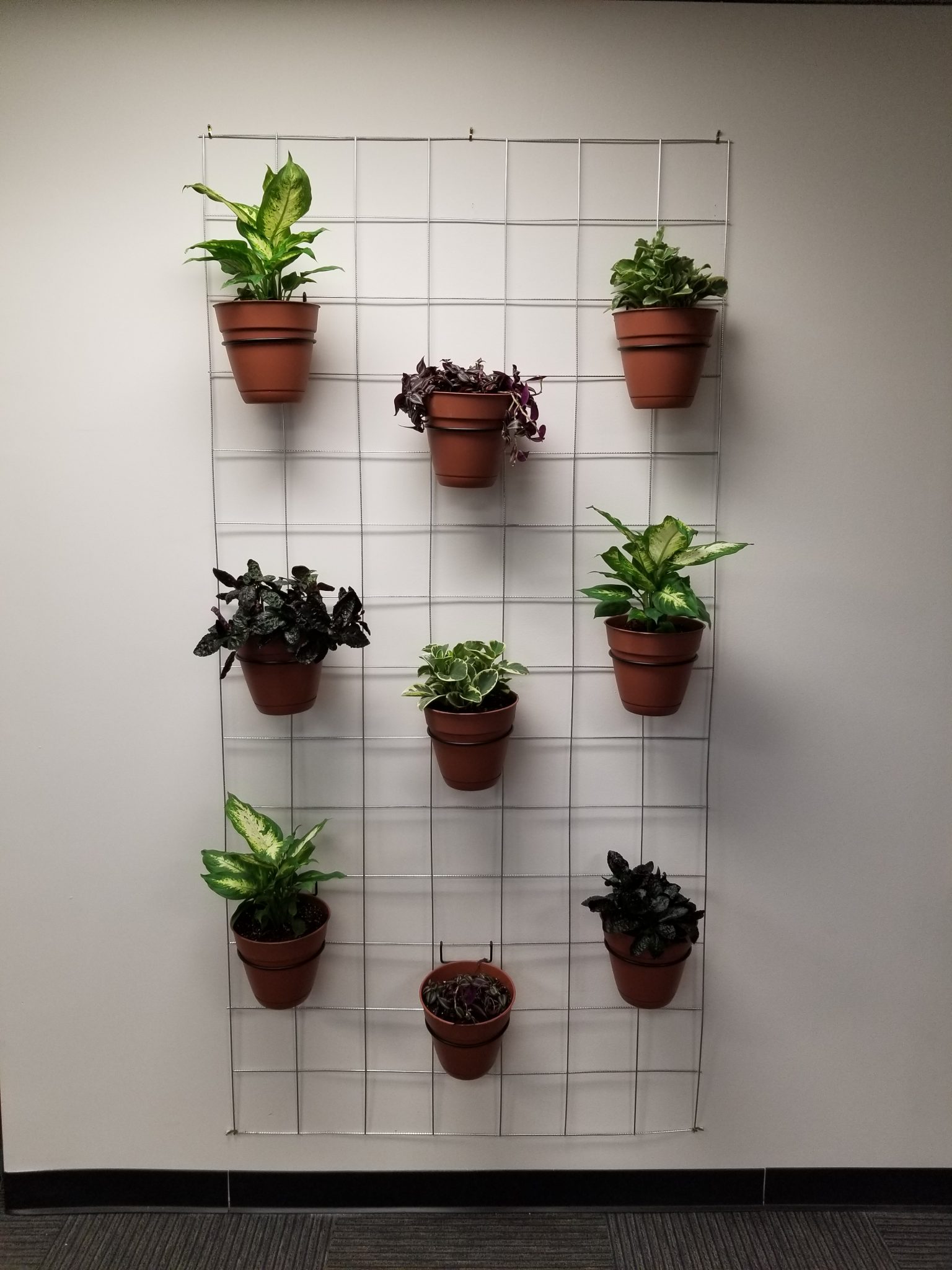 Step 5: Prepare to wage war with your fruit flies.
The Pros: We received many compliments from guests
The Cons: We received many guests we did not invite (think: fruit flies)
Our office was so excited about the new foliage that we blissfully decided to try out a local composting option, zoo-doo, hoping to encourage healthy growth. Unfortunately, we unintentionally encouraged "healthy growth" in our office and invited a family of fruit flies into our space! We tried every DIY and natural remedy in the books that had worked for us at home in the past, including apple cider vinegar, dish soap, honey, and fruit. Turns out, you don't catch many more flies with honey than vinegar. These weren't your typical household fruit flies… these were smart, business consultant fruit flies born into the SBC offices and we needed to bring out the big guns to take them down.
A green wall might come with some unwelcome visitors, but don't panic! Try different methods to see what works. It ended up being a fun office activity, with everyone rallying to brainstorm, research, implement, and track progress on our various new methods of corralling the fruit fly population. Take it in stride and you'll be fine.
Green Tip: Skip zoo-doo or compost in the office, and opt for liquid plant food instead. These are great in a garden but can introduce unwelcome critters indoors. Consult your local nursery for the right nutrient balance. We've been using Bonide, ideally formulated for houseplants!
Step 6: Repeat!
After two months, our office was enjoying the new greenery in the office so much, that we made space to add a second plant wall. This time, I finally had the hang of it! We opted to keep the same design to add symmetry to our space, but feel free to restart from Step 1 and design an entirely new plant wall!
If you try a version of this, please send us a photo so we can feature your new, green office on our social media channels!